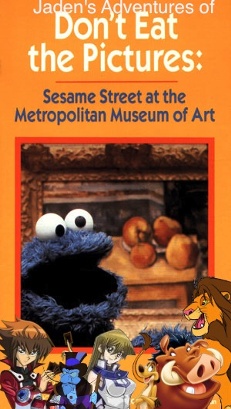 Jaden's Adventures of Don't Eat the Pictures is an upcoming crossover by Ren the God of Humor. It will appear on Youtube in the near future.
Plot:
The Sesame Street gang, Jaden, Alexis, Beetles, Simba, Timon, and Pumbaa visit the Metropolitan Museum of Art. When Big Bird leaves the gang to try to find is friend Snuffy, everyone gets locked up in the museum for the night when thy try to find him. Jaden and his friends find Big Bird, who help him find Snuffy, and they also find an Egyptian prince named Prince Sahu, who is under a spell. They must help him answer a question to break the spell, and reunited him with his parents in the sky.
Trivia
Songs
Broken and Beautiful - Oscar the Grouch
I Want To Be Your Friend - Grover
You're Gonna Be A Star - Big Bird and Prince Sahu
Hakuna Matata - Timon, Pumbaa, Simba, Jaden, Alexis, Beetles, and Prince Sahu
Mothers and Children
Scenes
Community content is available under
CC-BY-SA
unless otherwise noted.