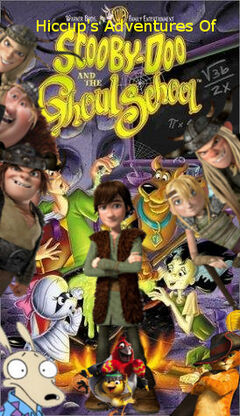 Hiccup's Adventures of Scooby Doo And The Ghoul School
is The Upcoming Project Will Be Made By Aaron the Meerkat And Will Upload it in Youtube Or Vimeo.
Plot
Hiccup And His Gang Are Flying Around The raining Night, Until They Notice A Van Was Driving In The night, Where Scooby, Shaggy, And Scrappy Are On Thier Way To The School For Girls For Gymnasysm Skills, And Hiccup And The Gang Agrees To Go With Them, And They Encounter A Spooking Place Called The Ghoul School, And They Meet Miss Grimwood, Matches, The small Dragon, And The Hand, And They Meet The Ghouls, Which Are The Daughters Of Dracula, Werewolf, Mummy, A Ghost, And The Frankestein. Shaggy, Scooby, And Scrappy, And Hiccup And The Gang Are pretty Terrified By Them, But They Need Gym Teachers To Show them Skills For Volleyball Game to Beat The Calloway Cadets, And They Agreed To Help Them, But Out In The Mountains Where A Villainess Revolta, And Her Assistant, Creeper, And Lord Shen, Alvin The Treacherous, Mildew, Dagur The Deranged, And Boss Wolf, Are Planning To Capture The Girls And Make Them Turned Evil, So Hiccup And The Adventure Gang, Scooby, Shaggy, Scrappy, And Matches Need to Find Them And Rescue The Girls Before It's Too Late.
Trivia
Captain Gutt And His Crew Will Be Guest Stars In The Project
After They Escape Revolta's Castle, Lord Shen, Gutt, Alvin, Mildew, And Dagur Grabbed Hiccup And The Grimwood Girls Down To The Sliding Rock Slide Down To Revolta's Erupting Mountain Leading The Final Battle Between Hiccup, The Grimwood Girls, And The Villains.
Scrat Also Made His Several Appearances In This film.
in the end, The Grimwood Girls will possibly see Hiccup Again.
Community content is available under
CC-BY-SA
unless otherwise noted.