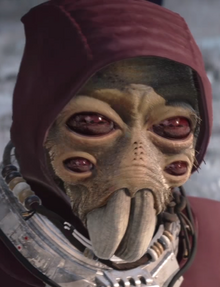 Gleb was a female Aqualish who served as headmaster of the Future Imperial Leaders Military Preparatory School on Vardos. She taught the notion that young Imperials didn't make friends, they instead made allies but more than colleagues. During Operation Cinder, Admiral Garrick Versio ordered Inferno Squad to rescue Gleb from Vardos' destruction. Thirty years later, she was part of Project Resurrection and the First Order, who helped Jinata Security maintain control over the Jinata system and rebuilt Vardos. She was later killed on Vardos by the First Order after repeated failures regarding Project Resurrection and having "outlived her usefulness".
Trivia
Gallery
.
Community content is available under
CC-BY-SA
unless otherwise noted.