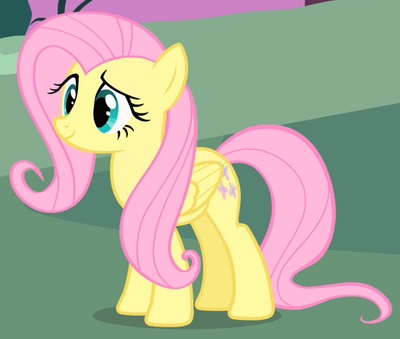 Fluttershy (voiced by Andrea Libman) is a main character in My Little Pony: Friendship is Magic. She represents the element of kindness. She's a caretaker of animals. She's very kind, but also pretty shy and timid. But she's still willing to help her friends.
Likes
Taking care of animals
Being kind to others
Her friends
Discord
Diego Jr. (DJ) and Snowflake
Subway
Dislikes
Nightmare Night
Her brother Zephyr Breeze and his laziness
Trivia
Fluttershy will guest star in Jeffrey & Friends meet Bambi. At the end, she'll join the team along with her friends.
In a episode of Jeffrey & Friends' Adventures Chronicles, Fluttershy will try to learn how to be brave.
Fluttershy is one of tigerman531's favorite MLP characters since she represents how shy he can sometimes be.
As Saddle Rager, she can turn into a hulking monster with tremendous strength when she gets angry, known as Flutter Hulk. 
When she was helping Appelack with a Bat issue at the farm, she was accidently fell under the influition of the Vampire Fruit Bats, and transformed into a Vampire Bat form of herself called, Flutterbat.
Along with Rarity and Mavis, Fluttershy is excellent at sewing.
Fluttershy gets along with DJ since they're both very shy. DJ also views her and Xion as his idols.
Gallery
Community content is available under
CC-BY-SA
unless otherwise noted.