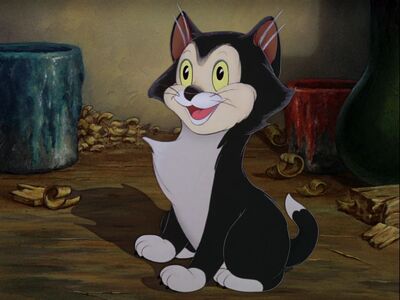 Figaro (voiced by Frank Welker) is a black and white kitten from Pinocchio. He is a pet of Geppetto and later, Minnie Mouse.
Figaro is based off of, and acts like, a immature and spolied little boy. He is easily angered, but deep down, he has a heart of gold. He takes a disliking to many things including, but not limited to, waiting, baths, being made a fool of, dogs and giving Cleo the goldfish a goodnight kiss.
Trivia
Figaro will meet Jeffrey and his team in Jeffrey & Friends meet Pinocchio.
Later in the series, in the chronicles episode Xion's New Pets, Figaro and Cleo the Goldfish will become Xion's pets. This means that they'll be joining the team.
After he joins the team, Figaro will be more closer to Xion and will be her best friend.
Community content is available under
CC-BY-SA
unless otherwise noted.