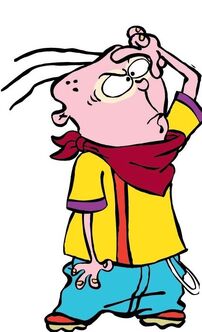 Eddy (voiced by Tony Sampson) is one of the main characters of Ed, Edd n Eddy. He's a bad tempered and greedy con-artist. His two best friends are Ed and Edd. His favorite food are Jawbreakers. But he really does care about this friends. He and Ed and Double D are the leaders of the Atlantean Alliance.
Gallery
Trivia
He and the Eds are the Dragon Warriors who trained with Po during The Ed's Adventures of Kung Fu Panda.
Eddy will guest star along with Ed and Edd in Jaden Meets Thumbelina .
His love interest is Sam.
Eddy will one day meet the Jeffrey & Friends' Adventures team.
Eddy will meet Ben & the G.A.Warriors in the near future.
Community content is available under
CC-BY-SA
unless otherwise noted.