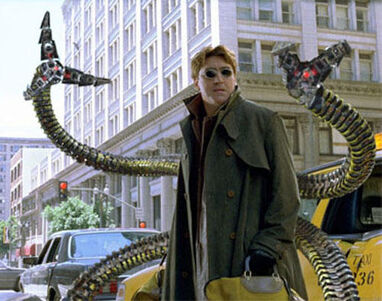 Doctor Octopus
(performed by Alfred Molina) is the main antagonist of
Spider Man 2
. Dr. Otto Octavius was a brilliant man who had a dream 
to create a self-sustaining fusion reaction. He was infused with powerful robotic tentacle arms with artificial intelligence for demonstration. But the project failed, Otto's wife got killed, and a chip which prevents the arms from corrupting his mind gets destroyed. With the arms influencing his mind now. Otto plotted to do the experiment again and became "Doc Ock".
Trivia
Doc Ock will meet Craig in Craig & Friends Adventures of Spider-Man 2.
Doc Ock will appear near the end of Craig & Friends Adventures of Scooby-Doo and the Witch's Ghost. At the end, he'll join the club.
Gallery
Community content is available under
CC-BY-SA
unless otherwise noted.