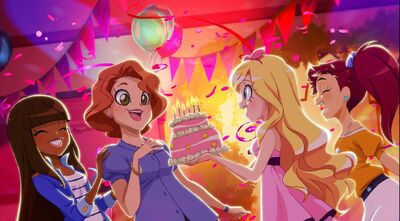 Courtney's Adventures of LoliRock- The Birthday is an upcoming crossover to be made by PuppyPower32.
Plot
After receiving a mysterious music box that gives her dreams, Iris has a dream about the location of an oracle gem! But, will she miss her Aunt Ellen's birthday to retrieve it?
Trivia
Scenes
Courtney and Iris captured!
(Courtney and Iris enter the abandoned house and head upstairs to find the oracle gem, sitting on the table)
Courtney: There it is! Grab it and let's get outta here. This place gives me the creeps...
Iris: *walks over to the table to grab the oracle gem*
(Suddenly, the door closes behind them!)
Iris: *gasps*
 ???: Welcome, Iris.
(Some black crystals cage them!)
Courtney: We're trapped!
(The twins appear as Iris notices them)
Praxina: We have someone who wants to speak to you.
(The twins laugh evilly)
Courtney: *whimpers in fear as her ears drop down in fear*
Community content is available under
CC-BY-SA
unless otherwise noted.