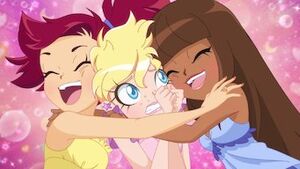 Courtney's Adventures of LoliRock- Shanila Surprise is an upcoming crossover to be made by PuppyPower32.
Plot
Iris has reached her next magical training stage; Shanila! But, Gramorr orders an attack to stop her progress.
Trivia
Scenes
Auriana And Talia's Shanila
(Iris is wearing bells in her shanila hair)
Auriana: Oh, see? Isn't that pretty?
Iris: *laughs a bit* Um, yes?
Talia: *reading a spell book* You don't have to wear those, Iris. In Xeris, we don't cover our shanila hair with tacky trinkets.
Auriana: If we can't make a real party, at least let's make a secret party! We'll make our own fun! *shows some photos of her shanila* See? Here's my shanila.
Iris: *giggles* Wow! You look amazing!
Auriana: *sighs* Maybe, I put a few too many bells in my hair. But, when I was younger.. *whispers* I didn't have much self control.
Talia: When you were younger?
Iris: *giggles* How about you, Talia? Let's see your shanila.
Talia: There are no images of it.
Auriana: Oh, come on! You gotta have one, little picture somewhere.
Talia: Nope, not even one. For us, shanila was taken very seriously.
Amaru: *takes off his amulet and shows a photo of Talia's shanila*
Courtney: *bursts out laughing after seeing the picture*
Everyone: *giggles*
Talia: *sees Amaru showing the picture* Hey! That's private!
(Amaru runs off before Talia could get Amaru. He jumps into a bag filled with accessories)
Talia: No!!
Amaru: *pops out of the bag with bells on him*
Everyone: *laughs at this*
Trouble at Sled Mountain
(The Thunderbolts, Talia, and Iris ride on Amaru to Sled Mountain until they heard screaming)
Iris: Can you hear that?
Talia: Yes, it's coming from there!
(The crowd screams while watching Auriana and Nathaniel sled on the crystal slides)
Auriana: *screams*
(Amaru lands on the ground as the Thunderbolts get off him)
Talia: *gets off*
Iris: *falls off Amaru* Aw man!
Talia: Be careful, Iris. *helps Iris up*
(Suddenly, Praxina fires a crystal at them!)
Everyone: *screams after getting hit*
Mephisto: *chuckles evilly*
Praxina: I'd knew you come!
Courtney: *growls angrily like Stitch at the twins as she protects Iris*
Iris: *gets up and gasps*
Talia: Iris, find some cover! Talia, Princess Of Xeris! *transforms into her princess form*
(Talia fights off the twins as the Thunderbolts and Amaru guide Iris up the mountain)
(Before the twins could fire their spell at Talia, they turn and see the ski lift coming towards them)
Courtney: *shouts* Look out below!!!!
(The ski lift hits them and carries them off)
Talia: *gasps and sees Iris, Amaru and the Thunderbolts waving to her*
Courtney: *laughs like Stitch after seeing the twins getting hit by the ski lift*
Iris: *sees something and gasps*
(The twins have stopped the ski lift)
Praxina: You thought that was funny, huh? Well, tell us what you think about this! Demutar! *uses her magic on the crystal slides to shift them*
Courtney and Iris vs Mephisto and Praxina
(The chaos emeralds swirl around Courtney after Iris has transformed into her Shanila form)
Courtney: Time to scramble some twins, chaos control style!! *uses the chaos emeralds to transform into her super form*
(Mephisto and Praxina fire their combined attacks at Iris and Courtney)
Talia: *gasps*
Courtney: Chaos control! *uses chaos control to counter the twins' attack*
Iris: *counters with her Shanila powers*
(The twins duck as the powers hit the mountain. Talia, Auriana, and the Thunderbolts were amazed. Mephisto and Praxina back away as Iris and Courtney appear behind the twins)
Courtney: Peek-a-boo!
(The twins turn around quickly to fire their attacks at them)
Courtney: CHAOS CONTROL!!! *uses chaos control on the twins as Iris fires her powers at the twins*
(The twins get sent flying away as they scream)
Community content is available under
CC-BY-SA
unless otherwise noted.