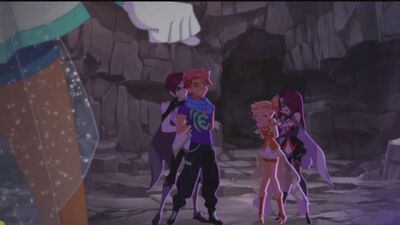 Courtney's Adventures of LoliRock- Desert Heat is an upcoming crossover to be made by PuppyPower32.
Plot
The Thunderbolts and the princesses attend a concert out in the desert where DJ Ezra is gonna perform. But, Auriana notices something familiar about Ezra.
Trivia
Scenes
Captured!
(The twins have captured the Thunderbolts, the princesses and Amaru)
Praxina: Very nice, we've collected the whole set!
Mephisto: *chuckles*
Jodan (Ezra): *groans*
(The Young Six and the CMC were hiding underneath the truck after seeing the Thunderbolts, the princesses, and Amaru get captured)
Sandbar: *whispers* Okay, so maybe we need a new plan...
The fight
(The Thunderbolts, the princesses, and Amaru were free after using their new spell)
Mephisto: Huh?
Iris: You're so gonna regret this!
Talia: Talia, Princess Of Xeris! *transforms into her princess form*
Auriana: Auriana, Princess Of Volta! *transforms into her princess form*
Iris: Iris, Princess Of Ephedia! *transforms into her princess form*
Courtney: *gets into a fighting stance* Tookie bah wah bah!
Amaru: *joins in*
Mephisto: Big deal! So, you've transformed. We've got something really impressive. Praxina?
(They raise their arms)
Courtney: Iki ba!
Mephisto and Praxina: Aterodere! *uses their magic to summon a huge scorpion*
Courtney: *gasps in fear and almost faints* Scorpions.... Why did it have to be scorpions?
(Jodan and Courtney get Auriana out of the rocks as Jodan helps her up)
Courtney: You okay, Auriana?
Auriana: Jodan, you saved me! Just like when we were kids.
Jodan: *smiles*
Mephisto: *appears behind Jodan* Not so fast!
Jodan: *gasps*
Mephisto: *grabs Jodan* It's not over yet!
Praxina: *grabs Auriana and Courtney* You voltans are into shields, aren't you? Well, let's see what it feels to be one!
Talia: *about to fire a spell*
Iris: *stops Talia* Talia, wait!
Mephisto and Praxina: Ateruina! *fires their attacks at the others while holding Jodan, Auriana, and Courtney hostage*
(They run from the attacks)
Rainbow Dash: What are we doing?! We can take the twins!
Zak: Not with their lives on the line!
Courtney: *growls and barks angrily at the twins to let her, Auriana, and Jodan go*
Community content is available under
CC-BY-SA
unless otherwise noted.