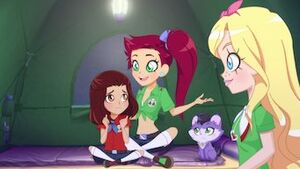 Courtney's Adventures of LoliRock- Camp Princess is an upcoming crossover to be made by PuppyPower32.
Plot
The Thunderbolts and the princesses spend the night in a tent with a timid camper named Daisy. But, Mephisto and Praxina use the animals from the totem pole to attack them!
Trivia
Scenes
Belle (Experiment 248)
(Everyone was inside Daisy's tent until they heard a loud, ear-pitching scream!)
Daisy: *scared* What was that?!
Courtney: Wait, I know that scream anywhere! *perks her ear up, listens to the scream, and recognizes it!* It's Experiment 248 a.k.a Belle! *goes outside and looks around for Belle*
(Belle comes out of the woods and screams)
Courtney: *covering her ears* There you are, Belle!
Belle: *screams and runs over to Courtney*
Courtney: *picks her up, to the others* It's okay, Daisy. It's only Belle.
Community content is available under
CC-BY-SA
unless otherwise noted.