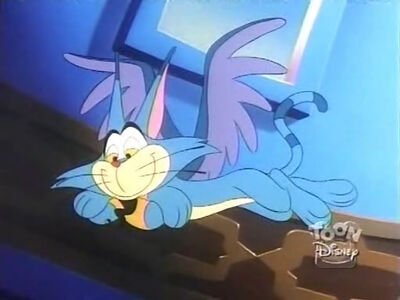 "But I never liked Fate! Predestination goes against the grain. Besides he cheats at cards!" - Chaos.
Chaos (voiced by Matt Frewer) is the name of a godlike being from the Aladdin television series. He is a magical being that spreads and may even be the embodiment of chaos.
Appearance
Though capable of shapeshifting, Chaos goes about in the appearance of a sphinx-like cat that vaguely resembles the Cheshire Cat. He has blue fur, green eyes, and a beard similar to Genie, a pair of wings, and gold bands on his forepaws, along with a collar.
Trivia
He is called "The Master Trickster" by Mirage, as well as "Master of Surprise, the Unpredictable".
He does get angry when people start giving him orders, warning in a threatening voice not to do so. This may be because chaos has no order.
An interesting thing about Chaos is the fact that his love, ability to create Chaos and his name being a reference to disorder, is very similar to Discord.
Like the Genie, his magical tricks tend to make references to other media.
Chaos is an old friend of Discord.
Community content is available under
CC-BY-SA
unless otherwise noted.