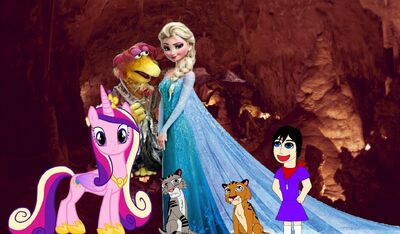 Cantus' Next Student is an upcoming Jeffrey, Jaden & Friends' Storm Adventures chronicles episode created by tigerman531 and Ren the God of Humor.
Plot:
While training his pupils, Cantus senses that the music has chosen another one be taught his magic, and it's Elsa the Snow Queen. However, Elsa is concerned if she can control this new power. And before Elsa can pass the test if the music has chosen her, Cantus' pipe is stolen.
Trivia
Elsa the Snow Queen, Anna, Kristoff, Olaf the Snowman, Rapunzel, Bambi, Genie, Selena Gomez, Ariel, Melody, Belle, Ralphie the Fire King, Iago, Homer Simpson, Marge Simpson, Bart Simpson, Lisa Simpson, Maggie Simpson, Stitch, Kronk, Wander, Sylvia, Cantus the Minstrel, Hans, Mother Gothel, Lord Hater, Peepers, will guest star in this.
Scenes
Community content is available under
CC-BY-SA
unless otherwise noted.