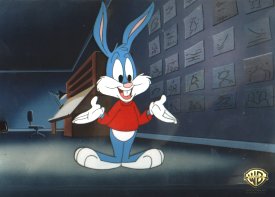 Buster Bunny (originally voiced by Charlie Adler and John Kassir) is an adolescent rabbit from the TV show Tiny Toon Adventures. Buster is a resident of scenic Acme Acres, and goes to school at Acme Looniversity, where he and his fellow up-and-coming toonsters learn tricks of the trade from Looney Tunes stars.
Buster's role model is Bugs Bunny, and most of his demeanor is borrowed from Bugs (though that is partially because the rabbit is also his mentor). However, he also is focused on teenage things like hanging out with his pals and finding a girlfriend.
His best friend is Babs Bunny and the duo are quick to point out to the viewer that there is "no relation" between them, implying that they are boyfriend and girlfriend.
Trivia
Buster, along with Babs, Plucky, and Hamton, is part of the Bugs and Daffy's Adventures team. Bugs picked those 4 out of the rest of the Tiny Toons as he believes they are the most accomplished Tiny Toons graduates.
Community content is available under
CC-BY-SA
unless otherwise noted.