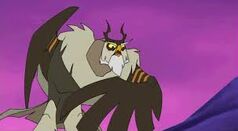 Brutus (voiced by Richard Newman) is the surpreme commander of the owls and father of Orestes. He's lead the distruction of Tree Haven, and believed that the silverwings casued a few murders (which in reality was casued by Goth and Trobb). He's obbsssed with war and hunting fugitives. However, Orestes don't share his view of the law.
Trivia:
Brutus believe that Shade, including Aaron and his team are criminals in Aaron and Yuma's Power Adventures of Silverwing.
He's named after one of the Roman conspirators who assassinate Julius Caesar.
Community content is available under
CC-BY-SA
unless otherwise noted.