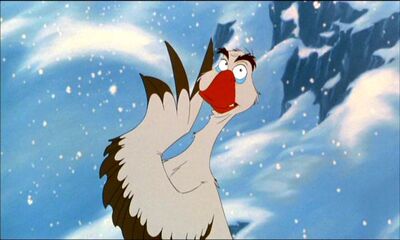 "Let me tell you something, Balto. A Dog cannot make this journey alone...but, maybe, a Wolf can." - Borris to Balto.
Boris (voiced by the late Bob Hoskins) is a character from Jaden meets Balto. He is a russian snow goose who rasied Balto from a pup. When an epidemic reached Nome, he went with Balto, Jaden and his friends to help get the medicine to town. But after an attack with a bear that got Jenna wounded, Boris took her back to the town, and waited for Balto's return.
Trivia
Bob Hoskins, who voiced Boris, also played Eddie Valiant in Who Framed Roger Rabbit.
Boris will meet Jeffrey and his team in Jeffrey and Friends meet Balto.
Boris will guest star in Jeffrey & Friends' Adventures with Alice in Wonderland.
Boris will meet Sonic in Sonic the Hedgehog meets Balto.
Boris will also meet and join the Bugs and Daffy's Adventures team (with Balto, Jenna, and Muk & Luk) in Bugs and Daffy meet Balto.
Community content is available under
CC-BY-SA
unless otherwise noted.