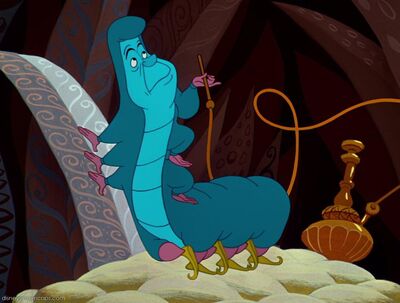 Blue Caterpillar
(1951 version: voiced by Richard Haydn, 2010 version: voiced by the late Alan Rickman) is one of the many residents of Wonderland, who lays all day on a mushroom and smokes from his hookah.
In Jaden's Adventures of Alice in Wonderland (1951 version), when the heroes where shrunken, they find the Caterpillar, who leads them into a confusing and nonsensical conversation. But he eventually tells them how to grow back to their original size.
In Jaden's Adventures of Alice in Wonderland (2010 version), he is given the name Absolem, and serves as the oracle of Wonderland, providing the wisdom for the citizens. He explains to Jaden and his team that the events in the 1951 version was to show Jaden and his friends Wonderland before they could go to the real thing. When Alice returns to Wonderland, she is brought to Absolem to see if she's the right one to slay the Jabberwocky. At first, he said "not hardly", but he helps her understand who she is, and that everything in Wonderland wasn't a dream, but a memory. In the end, he becomes a butterfly.
Gallery
Trivia
Community content is available under
CC-BY-SA
unless otherwise noted.