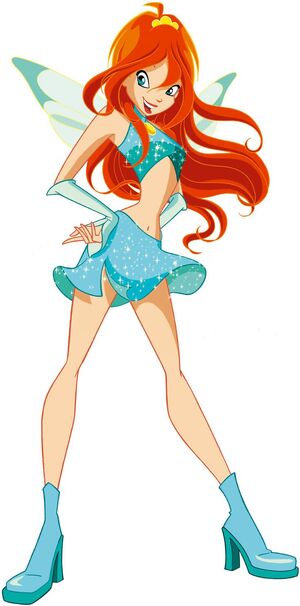 Bloom (voiced by Liza Jacquelin) is the main protagonist of Winx Club. is the Fairy of the Dragon Flame, which is the very source of vast strength, energy, and power of the legendary Great Dragon itself, who had created the entire magical universe. She discovered her dormant magical abilities after coming to the aid of another fairy, Stella. She is always available to help her friends. Bloom is generous, brave, loyal, strong, and a bit stubborn and can sometimes be quite impulsive, and she never backs down from a problem or challenge. She's one of the most powerful fairies in the magical dimension only second to Faragonda as shown in the episode Season 1 Episode 6 that Faragonda was able to take away her powers at will. She is from Earth and was raised by her adoptive parents, Mike (a fireman) and Vanessa (a flower-shop owner). She is the princess and last survivor of her planet Domino. But later on in the first movie, Bloom finds her parents and Domino becomes the place it used to be. Bloom is also a sister of Daphne, a powerful spirit without a body who is also a keeper of the Dragon Flame. Her pixie is Lockette, the pixie of mazes and portals, and her magical pet is Belle, a green and white sheep. Bloom also has a blue bunny named Kiko, whom she loves a lot. Her bonded selkie is Serena. She is Sky's fiancee after he proposes to her in the movie Winx Club: The Secret of the Lost Kingdom. Bloom's family book displays that she and Sky eventually marry (as shown at the end of "Winx Club: Secret of the Lost Kingdom"). She created the "Winx Club" and is best friends with Stella. Her hobbies are working on her fairy skills and learning about being a fairy. She was born on December 10. Her favorite color is red.
Trivia:
Bloom is Darkblade's cousin.
Bloom and The Winx Club will join the Ed's Team on The Ed's Adventures Of A Goofy Movie.
Jaden and Jeffrey may meet Bloom one day.
In the Thunderbolts Adventure Series, Bloom and the Winx Club are good friends with Courtney and the Thunderbolts. Bloom also acts as a responsible older sister figure to Courtney.
Community content is available under
CC-BY-SA
unless otherwise noted.