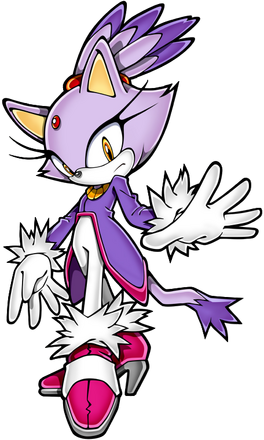 "As much i dislike relying on others, I'm grateful for your aid. The creature was beyond my skills." - Blaze to Sonic after he saves her in Crisis City.
Blaze the cat (voiced by Bella Hudson, Laura Bailey and Erica Lidenbeck in English and Nao Takamori in Japanese) is a character from the Sonic the Hedgehog video games series. She is a princess and guardian to the Sol Emeralds. She is friends with Silver the Hedgehog.
Trivia
Blaze will guest star in Jeffrey, Spongebob, Spyro, Dave Felis & Friends meet Flubber. At the end, she'll join the team, even though she didn't plan on doing so in the first place.
Blaze is one of the serious members of the Jeffrey & Friends' Adventures team.

Over the Adventure series, she will be falsley accused of being a couple with Scamper.
Community content is available under
CC-BY-SA
unless otherwise noted.