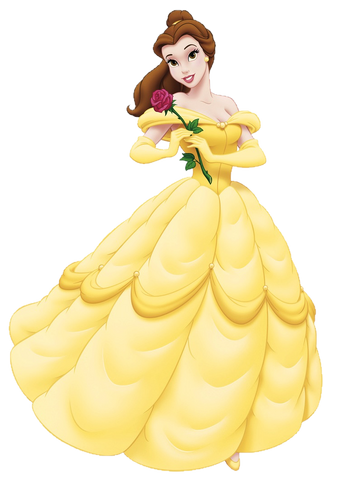 Belle (voiced Paige O'Hara) is the main protagonist of Jaden meets Beauty and the Beast. She loves to read, which is why everyone finds her odd. When her father was a prisoner to the Beast, she (along with Jaden) offer to take his place instead. During her time with the Beast, she had grown to like him, and the Beast was becoming more of a gentle creature. When she found that her father was ill, she and Jaden left the castle (with the Beasts permission) to help him. But when the whole village was gonna send him to the Asylum de Loons for his constant talk of the Beast, she convinces everyone that he's real. But Gaston believes him to be threat to everyone, and leads everyone to kill it. Gaston and the Beast fight. Gaston wounds the Beast, but Gaston falls to his death. Before the Beast died, Belle tells him that she loves him. The spell was broken, the Beast changed back into Prince Adam. Everyone reverted back to their original forms. Belle and Adam were married in the end.
Gallery
Trivia
Belle's name is English means "Beauty."
Belle will reappear in Jaden's Adventures of Beauty and the Beast: The Enchanted Christmas.
Belle will meet Jeffrey and his team in Jeffrey & Friends' Adventures of Beauty and the Beast.
In the 2015 movie Descendants, Belle & Beast (Adam) will have a son named Ben (portrayed by Mitchell Hope).
Community content is available under
CC-BY-SA
unless otherwise noted.