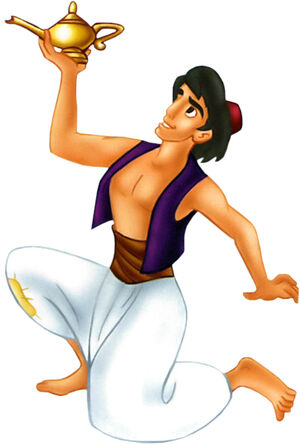 Aladdin (voiced by Scott Weigner) is the main character of the 1992 Disney movie of the same name. Aladdin is a "street rat" who lives with his friend Abu, stealing food to survive. When he obtains a magic lamp, the Genie he frees grants him 3 wishes. He uses his 1st wish to impress his love, Princess Jasmine, by becoming a prince, his second to save his life, and his 3rd to set Genie free. He (wouldn't you know it) marries Jasmine in the end.
He has a father named Cassim whom he long thought to be lost until he meets him again in Aladdin and the King of Thieves.
Gallery
Trivia
Jaden is the first person meets on his Adventures. His first adventure being Jaden meets Aladdin.
Aladdin will meet the Bugs and Daffy's Adventures team in Bugs and Daffy's Adventures of Aladdin.
Aladdin will meet Jeffrey and his friends in Jeffrey & Friends meet Aladdin. He is one of the many people who come to accept Jeffrey for his dragon form.
On Youtube, Patch (from 101 Dalmatians) will play as Aladdin in Patchaladdin.


Community content is available under
CC-BY-SA
unless otherwise noted.