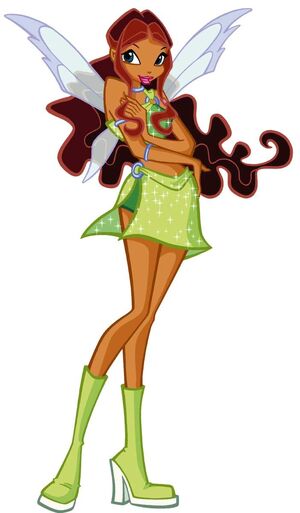 Aisha (voiced by Christina Rodriguez) is the Fairy of Waves and is able to manipulate a pink fluid called Morphix to take on any form she chooses. Aisha is the princess of the planet Andros, which is a water planet. The mermaids are faithful allies of Aisha's parents, and they help protect the planet. She has a restless, rebellious, and wild nature. She is also super gutsy, loves dancing and all sorts of sports, and faces every difficulty head on. She is also a little bit of an idealist and always on the move. She appears to have African features. Aisha is more of an athlete, a fighter, dancer and wind-raider rider compared to the rest of the group. She joins the Winx Club in the second season and brings her pixie friends along with her who the Winx later bond with. Her pixie is Piff, the pixie of sweet dreams, who quite frequently helps her with her troubling nightmares. Her magical pet is Milly, a white rabbit. Her bonded ocean keeper is Lemy, the keeper of the gate of Andros. She was Nabu's fiancee, but when he saved the Warrior Earth fairies, he goes into a coma-like state. Because of this, Aisha joins the Warrior Earth Fairies to avenge her love. But she eventually comes back to the Winx after she, the Winx, and Nebula defeat the wizards. Aisha's birthday is June 15. Her hobbies include sports. She loves horses and her favorite colors are turquoise and blue. In Season 5, it is revealed the new villain, Tritannus, is Aisha's cousin.
Trivia
Jaden may meet Aisha one day.
Jeffrey may meet Aisha one day.
Community content is available under
CC-BY-SA
unless otherwise noted.