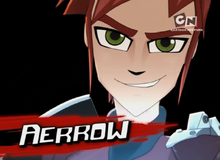 Aerrow (Voiced by Sam Vincent) is the Sky Knight protagonist of the show, and at just 14, is the youngest ever person to become the leader of the Storm Hawks. As the last descendant of the original Storm Hawks, it is believed that his grandfather or, more likely, father was Lightning Strike. In episode 46 of Season 2, "," it is shown that Aerrow, and to live on Terra Neverlandis, protecting it from a Cyclonian Youth Brigade in which a member. Aerrow was then contacted by three Guardians, who told him of his Storm Hawks heritage and his destiny to save Atmos. With the map and key to the Condor in their hands, Junko helped the trio escape to the Wasteland to look for the Condor, where they met Stork. After liberating their home, Aerrow and the others decided to reform the Storm Hawks, leaving their Terra behind to protect all of Atmos.
Trivia
Community content is available under
CC-BY-SA
unless otherwise noted.