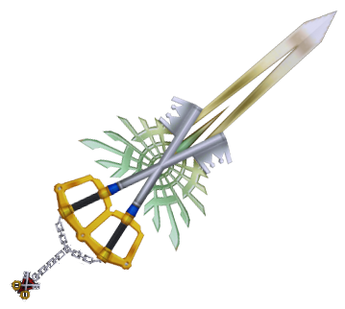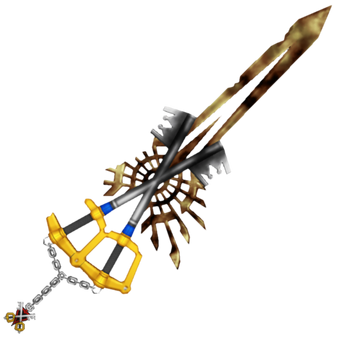 The χ-blade is the legendary Keyblade that is the counterpart to Kingdom Hearts. When Kingdom Hearts was lost in the deepest of darkness, the χ-blade was shattered into 20 pieces. 7 of light, and 13 of darkness. Tales tell of a Keyblade War, where countless Keyblade wielders created their own Keyblades to the image of the χ-blade. They fought each other and desired to take the χ-blade and Kingdom Hearts. Master Xehanort's goal is to aquire the χ-blade and start another Keyblade War. He first attempted to create it by having a heart of pure light (Ventus) and a heart of pure darkness (Vanitas) clash together. Vanitas managed to fuse with Ventus, and the χ-blade was created. During a metaphysical battle, the χ-blade was still incomplete and Vanitas attempted to complete the fusion within their combined hearts, but Ventus sacrificed himself to stop Vanitas. During a physical battle against Ventus-Vanitas, Aqua and King Mickey managed to destroy the χ-blade, 'causing it to explode.
Trivia
In the Jeffrey, Jaden, Hiccup & Friends' Storm Adventures series, the

 

χ-blade was broken into 11 pieces of light. Not 7. And Xion is required for its completion.
In Jeffrey, Jaden & Friends' Storm Adventures of Kingdom Hearts: Dream Drop Distance, it is revealed that the actions of Ansem and Xemnas were to restore the χ-blade. But Master Xehanort attempted again to recreate it by having his younger self bring 12 incarnations of himself into a gathering and form a second Organization XIII. He attempted to make Sora be the 13th Vessel, but this was thwarted by Jaden, Jeffrey, Lea, Riku, King Mickey, Xion, Donald, Goofy, and Jesse.
In the Thunderbolts Adventure Series, the X-blade is the weapon that gave Courtney her scar under her left ear when she was a young pup.
In the Twilight's Adventures Series, Twilight and the Rainbooms attempts to stop Anubis and the Heylin Empire from using their magic and 13 vessels of creating the X-blade.
Community content is available under
CC-BY-SA
unless otherwise noted.